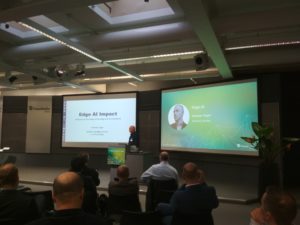 10.24.2019 in Berlin hosted the 3-d Edge Computing Forum. Edge Computing is one of the areas of the Internet of things that actively uses the principles and technologies of Industry 4.0. For the first time, the RWA is participating in a Forum organized by ECCE (Edge Computing Consortium Europe). Key impressions of the Forum:
-while in Ukraine the decisions of Industry 4.0 in general and Edge Computing in particular are only more promoted for application or implemented as startups, in developed countries they have long been used and are considered mandatory;
-a software-oriented 5G factory was created in Berlin – a unique infrastructure facility for testing future industrial communications, such as 5G, TSN, OPC UA;
-almost all the companies represented at the Forum are already presenting how they will apply new technologies (for example, 5G, WiFi 6, etc.) as part of their products and solutions, as well as which innovations these products will offer to the end user.
Among the Forum speakers are such well-known companies in Ukraine as: HUAWEI, IBM, Fujitsu, Ericsson and others.
RWA, together with partners, plans to actively participate in the work of the transport direction ECCE. First of all, this will allow us to offer our customers a comprehensive product that combines convenience, mobility, and availability of information to the end user without compromising the functional safety of train control systems.
For the end user, RWA systems will become more informative and will allow:
-introduce a system for informing passengers about the time of train arrival or about changes in train schedules;
-to increase the mobility of staff through the use of portable diagnostic systems implemented on the basis of tablets, PDAs or mobile phones;
-to reduce the number of failures in the movement of trains due to the automatic fixation of maintenance, comparing it with the service schedule, identifying deviations in technological processes;
-to increase the accuracy of statistics on railway system failures and their causes;
-at industrial enterprises, to increase the efficiency of technological processes by collecting statistical data on the turnover of cars and locomotives and analyzing bottlenecks in the production cycle.
RWA offers cooperation to all those interested in the digital transformation of the transportation industry.
back