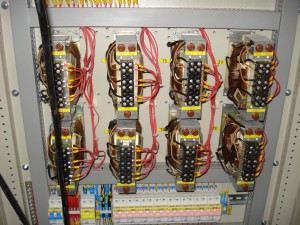 RWA Supply division offers packaged supply of specialized equipment and technical devices for railway transport companies. Grounding on all world experience of company's partners such as Schneider Electric and Phoenix Contact, as well as on own science and design engineering potential, RWA elaborates up-to-date systems of electric centralizing, based on innovative technical and technological design, including microprocessing devices.All systems of electrical centralized control of RWA are adopted to modern norms of technical operation of railways.Company has developed and put in batch production as per product specification (TU-U 31.6-34017368-002:2010 and TU-U-31.6-34017368-003:2010) basic elements of systems of:
Supervisory monitoring and centralized control;
Relay-microprocessing routing control;
Microprocessor based routing control;
Automatic interlocking;
Semi-automatic interlocking;
Automatic crossing over signalization;
Loco monitoring systems;
Electronic axle counting system.
In 2010 products of RWA have passed certification tests and received the functional safety certificates of compliance to DSTU 4178:2003 and DSTU 4151:2003 for major components of microprocessor traffic control systems in State Certificating agency credentialed by UkrSEPRo.
back